Stagnation is bad, but there's some relief that Germany didn't do even worse.
Oliver Rakau of Oxford Economics feared German GDP could actually have contracted in the last quarter, given recent weak data:
Bloomberg's Fergal O'Brien agrees:
But currency analyst Marc-André Fongern is concerned about Germany's prospects this year, given the coronavirus outbreak will hurt its manufacturing base.
2019 was not a great year for Germany.
Today's GDP report shows that the economy grew by 0.5% in January-March, only to shrink by 0.2% in April-June. Growth picked up by 0.2% in July-September, before fizzling out in the last quarter.
Introduction: Germany economy stagnating
Good morning, and welcome to our rolling coverage of the world economy, the financial market, the eurozone and business.
Newsflash: Germany's economy is flatlining, as a slowdown in spending and exports wipes out growth.
Figures just released show that German GDP was unchanged in the fourth quarter of 2019. Economists had expected a rise of 0.1%, so this is disappointing (and matches the UK's own performance in Q4).
On an annual basis, the German economy only grew by 0.6% during 2019, Destatis adds. That's a very weak result, as Europe's largest economy struggles to handle trade tensions, changes in the auto industry, and a slowing European economy.
It's not all gloom — growth in the third quarter has been revised up to 0.2%. But the general picture is weak: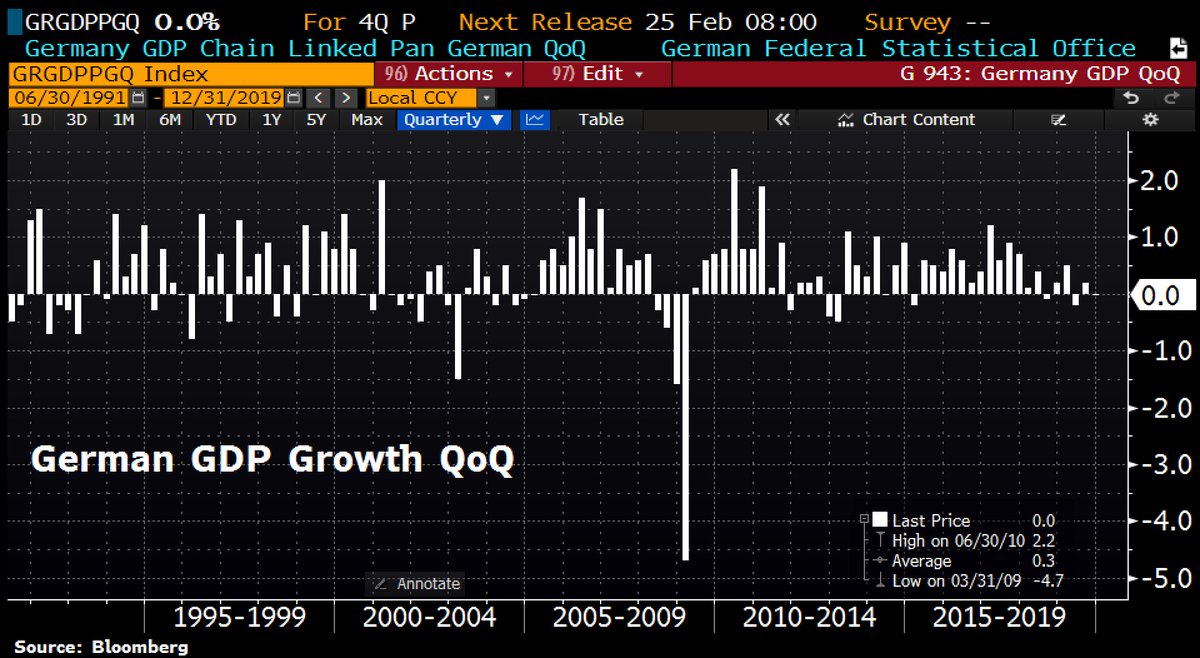 Destatis, Germany's statistics body, reports that household and government spending both slowed in the last quarter, while investment from companies was mixed.



After a very strong third quarter, the final consumption expenditure of both households and government slowed down markedly. Trends diverged for fixed capital formation.

While gross fixed capital formation in machinery and equipment was down considerably compared to the third quarter, fixed capital formation in construction and other fixed assets continued to increase.
Donald Trump's trade wars also hurt Germany. Destatis reports that German exports were "slightly down" in the last quarter, while imports of goods and services increased.
Later today we'll get an updated reading on eurozone GDP for the last quarter. Preliminary figures release last month showed that the region only grew by 0.1%, with France and Italy shrinking.
More to follow!
The agenda
7am GMT: German GDP for October-December 2019, first estimate
10am GMT: Eurozone GDP for October-December 2019, second estimate
Updated